Over Christmas break, the family spent four days in the picturesque city of San Francisco, California. There are so many things to do in San Francisco; we couldn't come close to doing it all in one short trip. Since it was the kids' first time there, we thought we'd stick with the popular tourist attractions for a classic tour of this iconic city.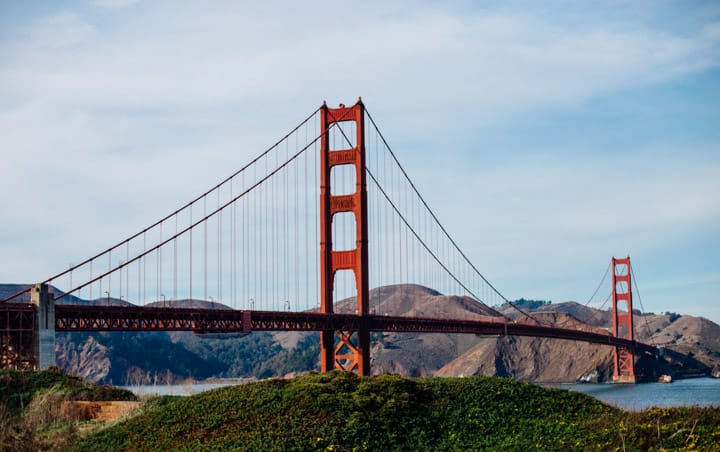 Spending a few days running around San Francisco during Christmas break was a blast for the whole family. We took a bay cruise, visited Alcatraz Island, took a guided bicycle tour over the Golden Gate Bridge to Salsalito, and walked through Chinatown. Home base was the Marriott at Union Square. If you want to be in the middle of the downtown action, this is the place to stay! We were close to shopping, restaurants, Chinatown and of course, Union Square. The staff was super friendly and the hotel was modern and clean.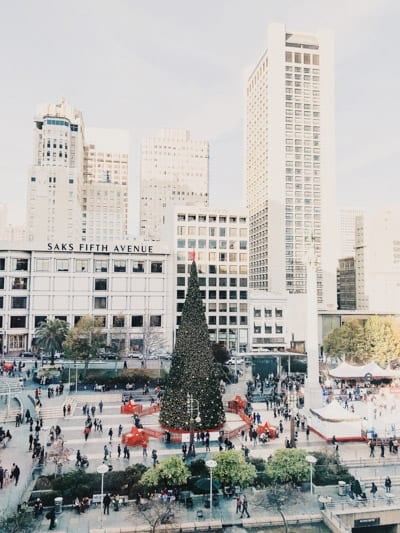 Bay Area Activities
There are many cruise lines to choose from in San Francisco. We booked our bay cruise through Alcatraz Excursions. It was a larger vessel with both indoor seating and outdoor decks. It can get chilly outside, so it's nice to have a place to sit if it gets too cold.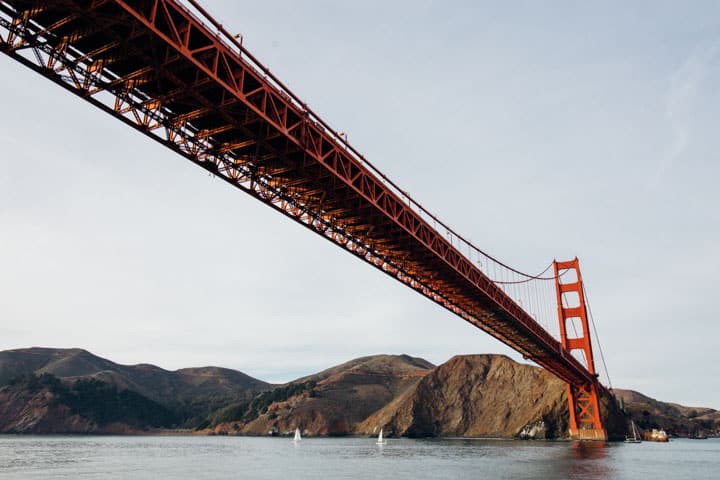 The Highlight of the Bay Cruise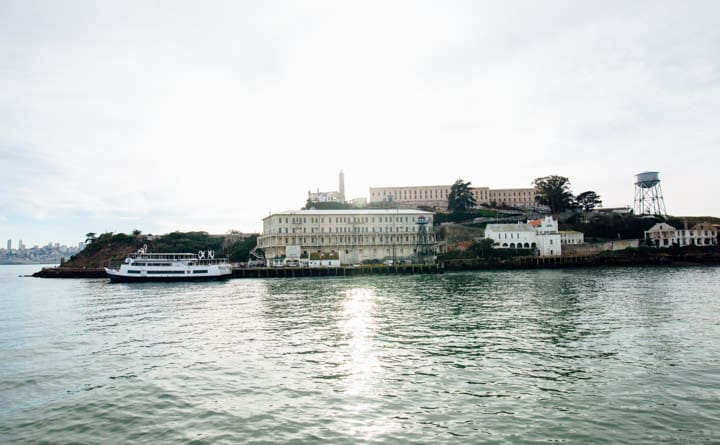 Alcatraz Island
After the cruise, we walked about a mile to Ghirardelli Square. There is a lot to see so plan plenty of time to take it all in. Right outside Pier 33 was a street performer who drew a big crowd!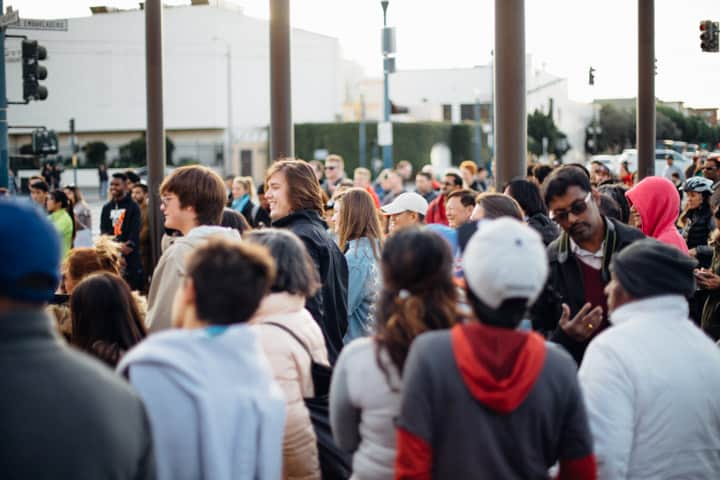 We stopped at the famous Pier 39 to snap a few pics. It was a little too crowded so we didn't stay long. There are lots of shops, restaurants, and even a carousel.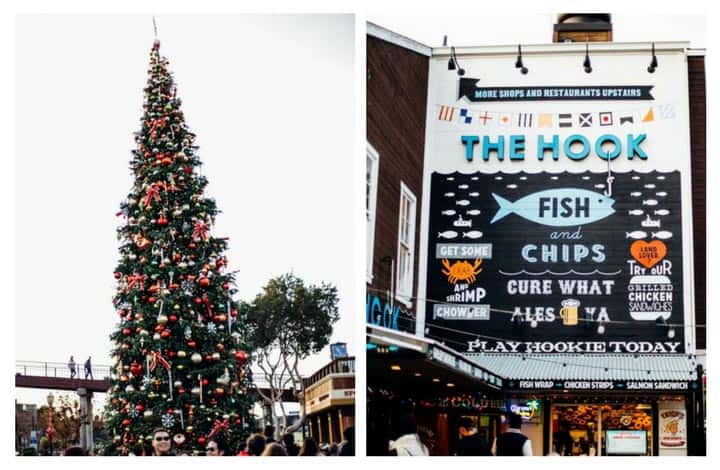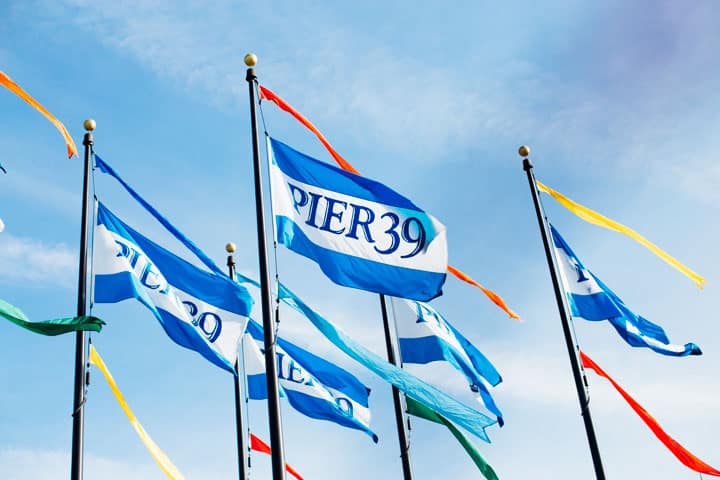 Our next stop was Fisherman's Wharf. You can get the most amazing fresh seafood from one of the food stalls or one of the many restaurants in the area. This is also where the famous Boudin bakery is. You must have their sourdough bread. And if you love tomato basil soup, check out my Homemade Tomato Basil Soup recipe. It was inspired by my trip to San Francisco.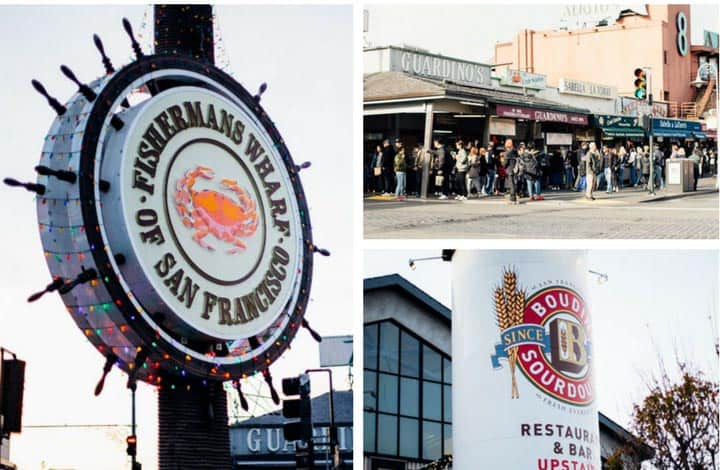 The boats are so pretty in the bay!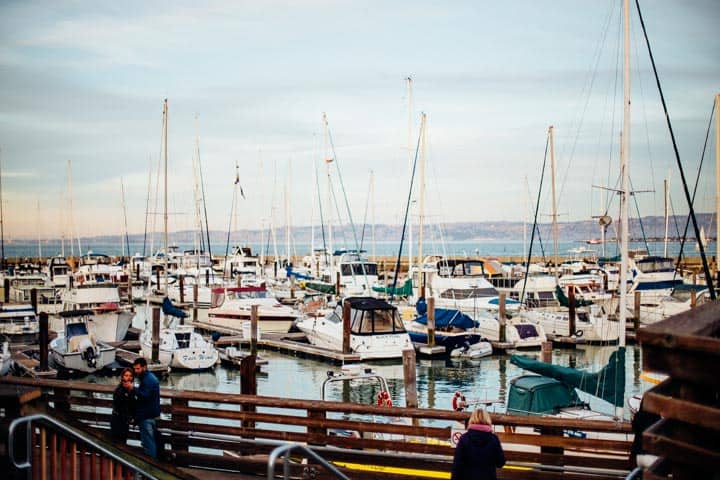 As we got closer to Ghirardelli Square, the sun started to set and we found a nice spot to update our instagram and snapchats!
Ghirardelli Square was very crowded. This was one of the downsides to traveling during Christmas break. There was a two hour wait to get into the chocolate factory so we decided to walk around a bit then take an Uber back to the hotel.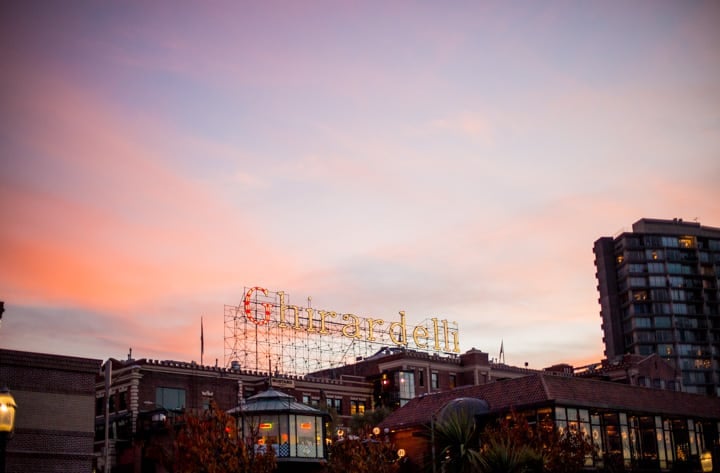 Chinatown
The next day we got up bright and early and visited Chinatown. This is the oldest Chinatown in North America and largest Chinese enclave outside of Asia.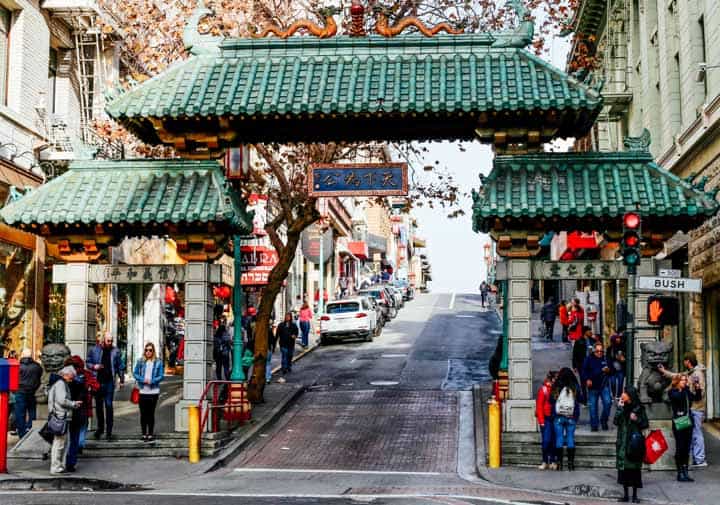 Chinatown Gate at Grant Avenue and Bush Street and some colorful steps leading to a cool dragon mural.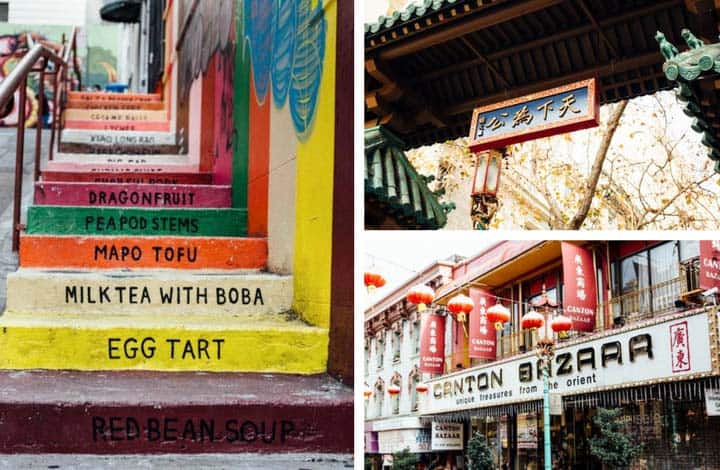 There is so much to see in Chinatown!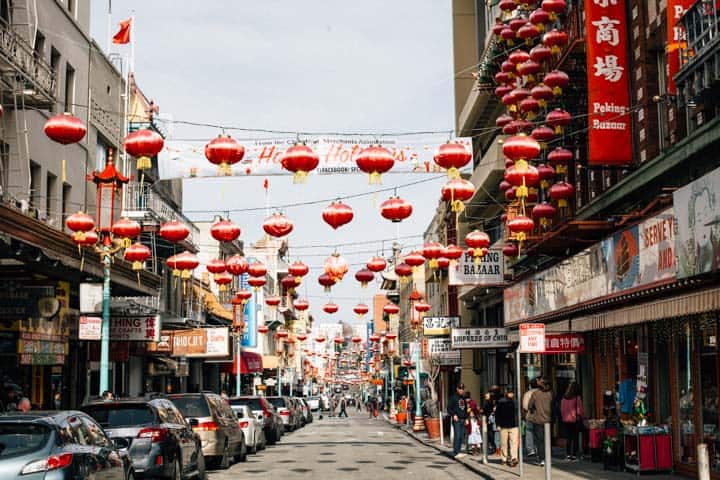 Lanterns give Chinatown a festive atmosphere!
This kids loved looking through the shops and at these colorful murals.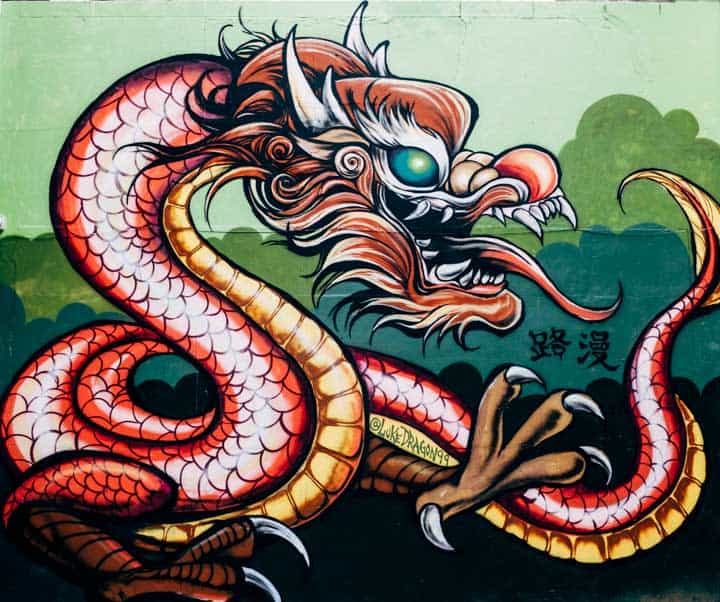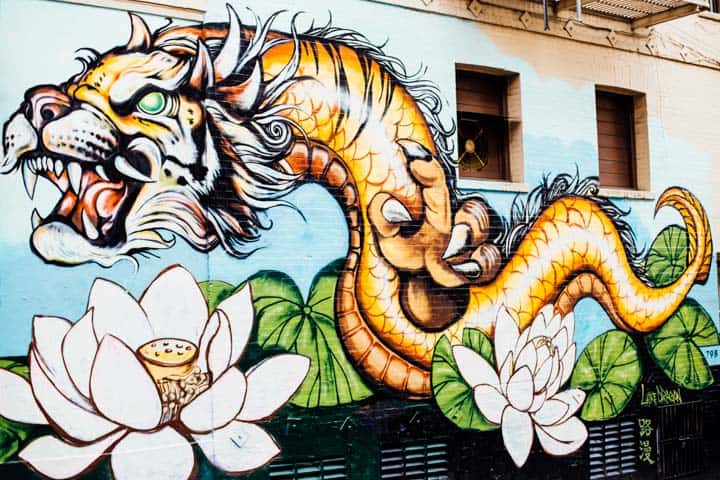 Coit Tower in Telegraph Hill
If you are looking for 360 degree views of the city, you have to go to Coit Tower, in the Telegraph Hill neighborhood. Just as impressive as the views are the murals that fill the rotunda inside the base of the building.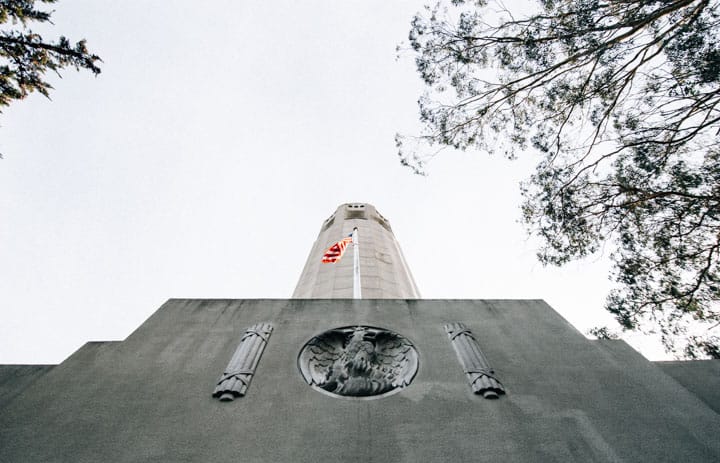 We waited about an hour to ride the elevator up to the observation deck.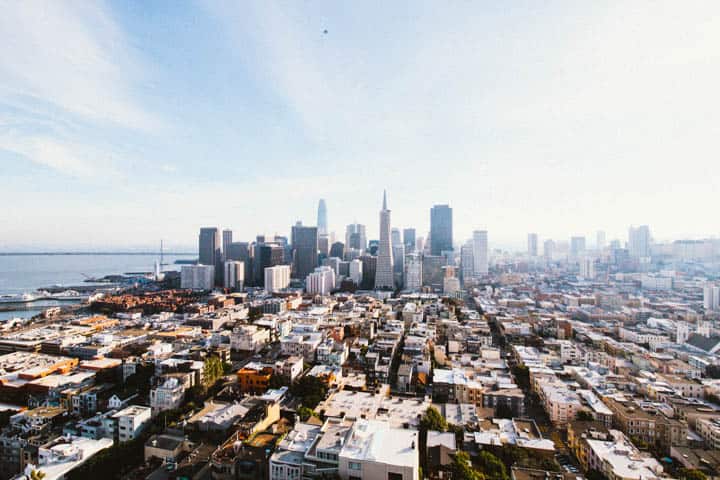 View of Transamerica Pyramid building from Coit Tower
The fresco murals were created as part of the Public Works of Art Project, a New Deal federal employment program for artists during the Great Depression.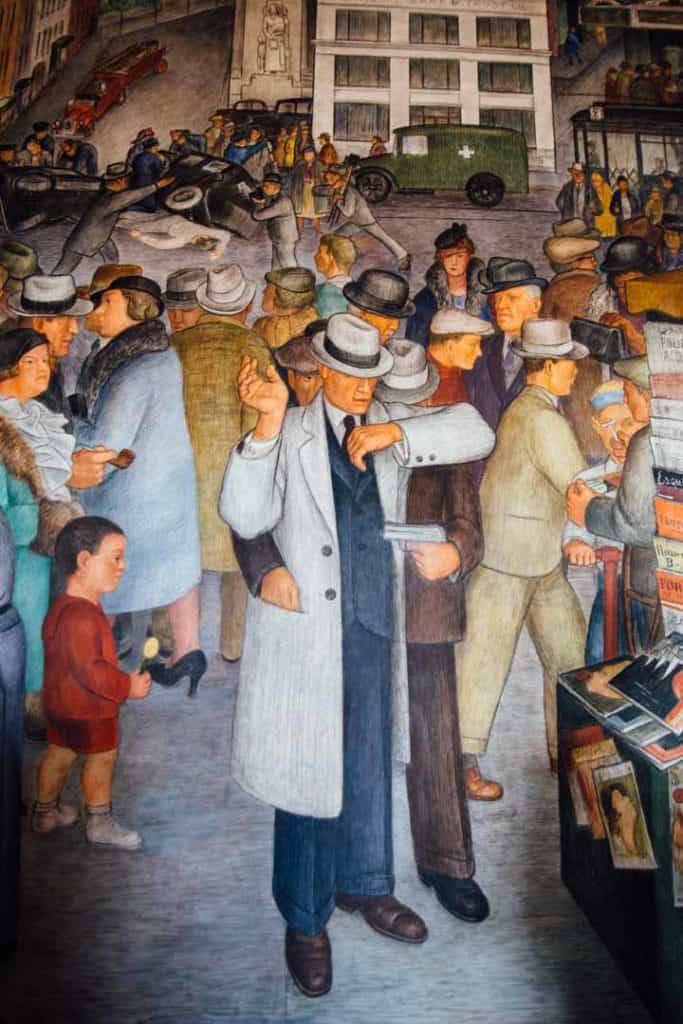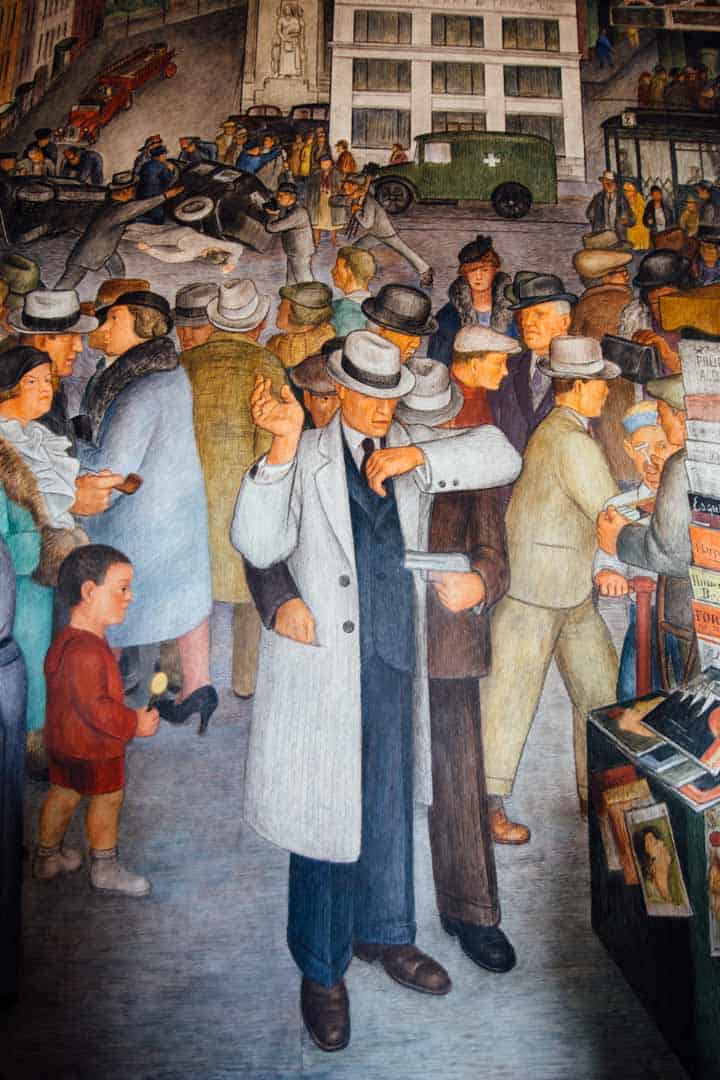 Golden Gate Bridge Bike Tour
I highly recommend riding a bike across the Golden Gate Bridge to Sausalito. We booked a guided tour with Blazing Saddles (they were wonderful) but you can go out on your own if that's more your style. Just keep in mind that San Francisco is hilly and you will encounter a few steep hills, but you can always walk your bike uphill if you need to!
We made a stop at The Palace of Fine Arts. This structure was build for the 1915 Panama-Pacific International Exhibition to celebrate the completion of the Panama Canal.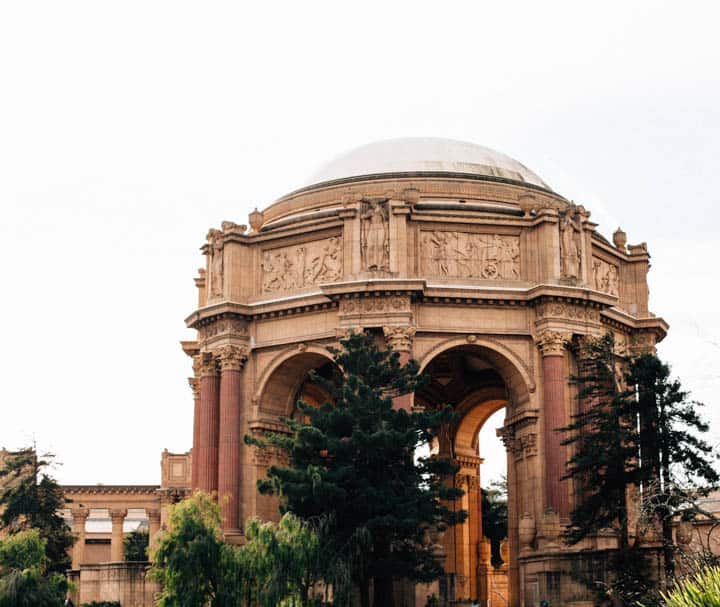 We rode along Crissy Field East Beach on our way to the Golden Gate Bridge.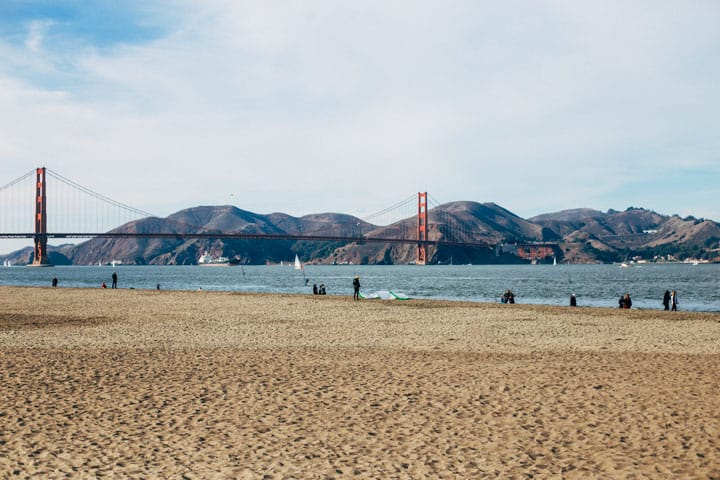 When we reached Sausalito, we were starved! We went straight to the nearest Mexican food restaurant to replenish all those calories we burned!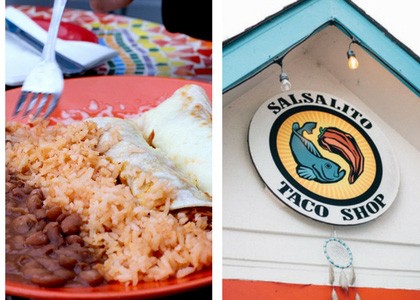 Instead of taking the ferry back to San Francisco, we took a bike-ready taxi who dropped us off right in front of Blazing Saddles. We probably saved at least an hour and didn't have to find our way back to the bike shop in the dark. Well worth it!
Here are a few take-a-ways from the trip:
San Francisco is family friendly!

Holidays are busy. If you can plan your trip for a different time, you will get more out of your stay without the hassle of super long lines and major crowds. If you can't avoid the holidays because of your kids' school schedules, come armed with lots of patience and flexibilty!

San Francisco has great public transportation and is Uber friendly. We didn't rent a car because of the limited parking. We used the cable cars, Uber and taxi's to get around.

You can plan your excursions well in advance of your trip. I purchased all of our tickets online so I could choose the days and times I wanted. If you are planning to visit Alcatraz, purchase online several weeks before your trip! Tickets usually sell out up to two weeks in advance.

We had the most amazing weather while there, but San Francisco can be cool (or downright cold) and rainy. Plan to dress in layers and bring an umbrella.
There is so much more to do and see in San Francisco! We're hoping to return very soon! If you've been to SF, I'd love to hear your experiences and/or recommendations! Please leave me a comment below!
Be sure to come back in a few days to check out my post on Alcatraz.
Other Travel Posts You Will Enjoy
Ten Instagramable Spots in Charleston, South Carolina
If you enjoyed this post or any other post on the blog, please leave a comment below. I love hearing from my readers! You can also find me on Facebook, Instagram and Pinterest!