This Ground Beef Ramen recipe is a quick and easy stir fry dinner recipe full of Asian flavor! Made with instant ramen noodles, ground beef, mushrooms and cabbage. Great for busy weeknights because it only takes about 30 minutes and is filling and satisfying.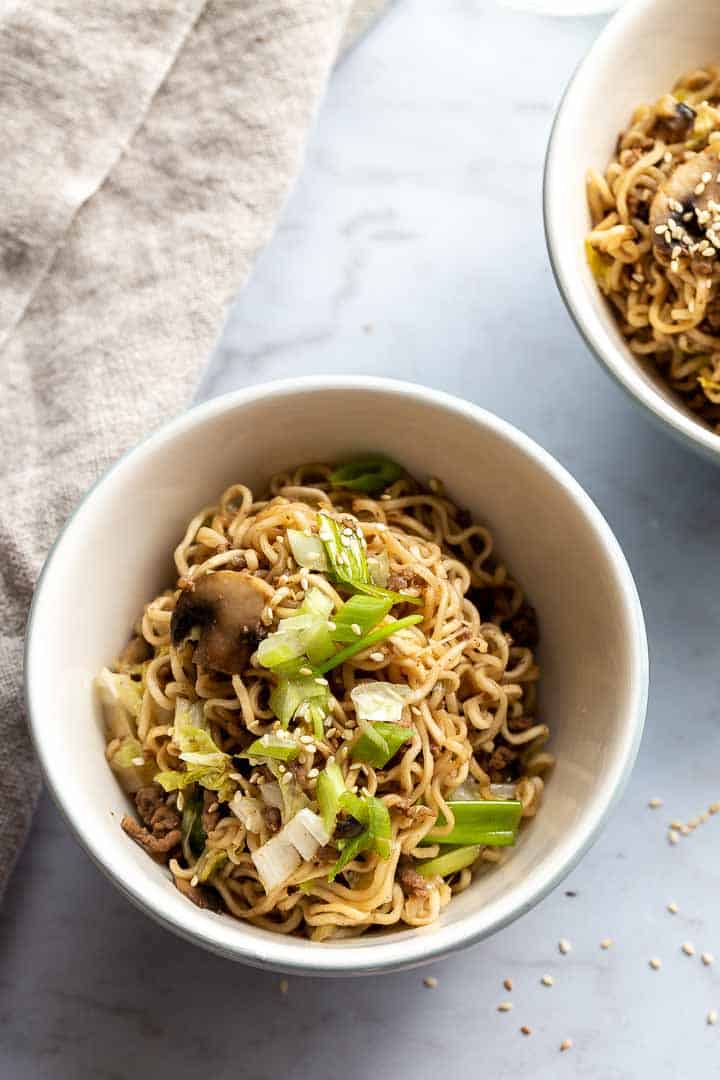 Why It's Awesome
Take-out inspired flavor - We love getting Chinese take-out because it's quick and easy, but making a healthier option at home is an even better idea. Our whole family loves this Ground Beef Ramen recipe and I feel better serving it because it's lower in sodium and fat than most take out dishes.
30 minute meal - Ground beef ramen is a recipe that fits in perfectly around here on busy weeknights because this flavor bomb cooks up in about 30 minutes and in one pot! It's a quick ramen noodle recipe!
Versatile - There are lots of variation options for this ground beef ramen noodle recipe if you want to try some different options! It's a great way to use up some leftover veggies you might have in the fridge. It's easy to add onion, bell peppers, broccoli, carrots, corn or peas to this delicious stir fry ramen.
Key Ingredients
Oil - This recipe calls for a mild flavored oil and sesame oil. Too much sesame oil can overpower a dish, so it's a good idea to use both. You can use only a mild oil like vegetable or canola, but you'll lose some depth of flavor.
Ground Beef - I use 85% lean ground beef. This ratio gives the dish a nice balance. You can substitute with ground turkey, chicken, or leaner beef if desired.
Garlic - Garlic gives this dish a nice sharpness we all love with Asian food.
Mushroom - Mushrooms add an earthy flavor while also absorbing the flavors of the other ingredients. I use what's easy to find at the store, but you can use your favorite kind.
Napa or Chinese Cabbage - I prefer Napa cabbage because the leaves are more tender than green cabbage. Just be sure to slice this as thin as you can get it! The tender part of the leaf will soften up and sweeten, while the tougher stems will give a little crunch to the dish. Bok choy is also a good substitute.
Ramen Noodles - I use the instant ramen packages and throw the seasoning packets away. The brand I used for this recipe is Maruchan Ramen Noodle Soup. It's not the product that comes with the styrofoam cup, it's the one with the block of noodles and the seasoning packets.
Green Onions (Scallions) - Use both the green and white parts of the green onions to flavor this dish. The white parts add a little more sharpness, while the green parts add a nice grassy flavor familiar in Asian dishes.
Soy Sauce - Soy sauce is made from fermented soy beans and lends a salty, earthy umami flavor so well loved in Asian dishes.
Hoisin Sauce - Hoisin is also made from fermented soy beans. It's salty as well, but is thicker than soy sauce and is slightly sweet.
Mirin - Mirin is a sweet cooking rice seasoning. It lends the sauce a slightly sweet and slight tanginess to the sauce. Substitute with a sweetened rice wine vinegar or even a dry white wine with a teaspoon of sugar.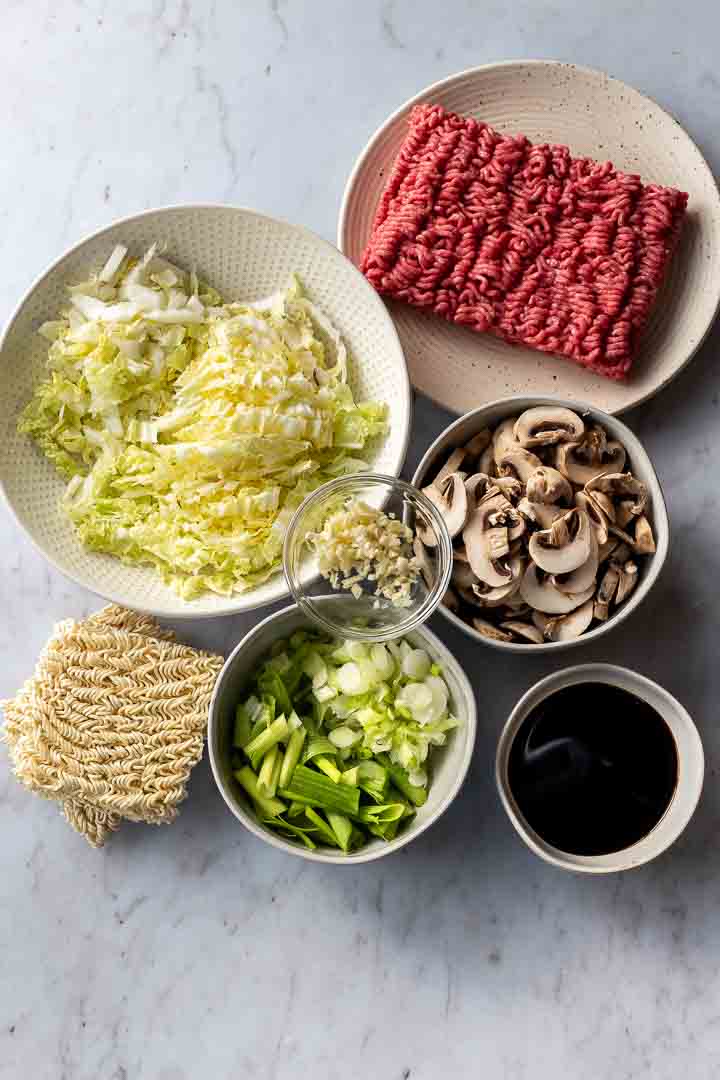 Directions
Scroll to the bottom for the printable Ground Beef Ramen recipe card.
Step 1: In a large skillet, fry pan, or Dutch oven, heat oils over medium heat and cook garlic for about 30 seconds. Add beef and cook until browned.
Step 2: Add mushrooms and white parts of green onions, cook for 2 minutes.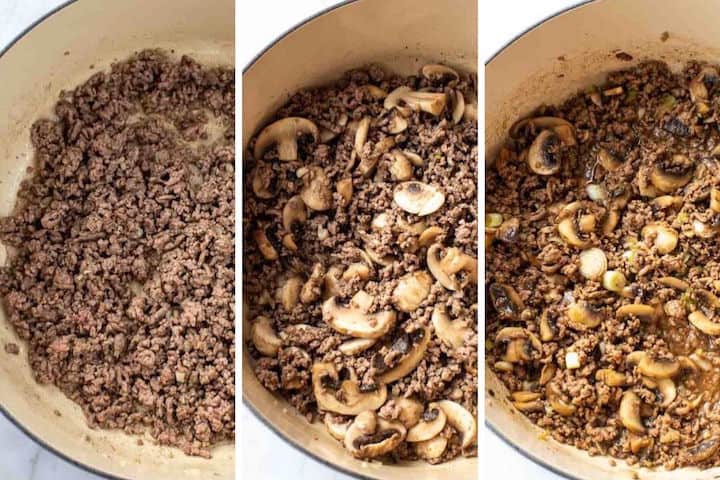 Step 3: Add stir fry sauce, cook for 2 or 3 minutes more.
Step 4: Push beef mixture to sides of pan. Add water to the center. Place uncooked ramen noodles in the center. Let cook for about 1 minute. Turn ramen noodles over and break them up as they soften up.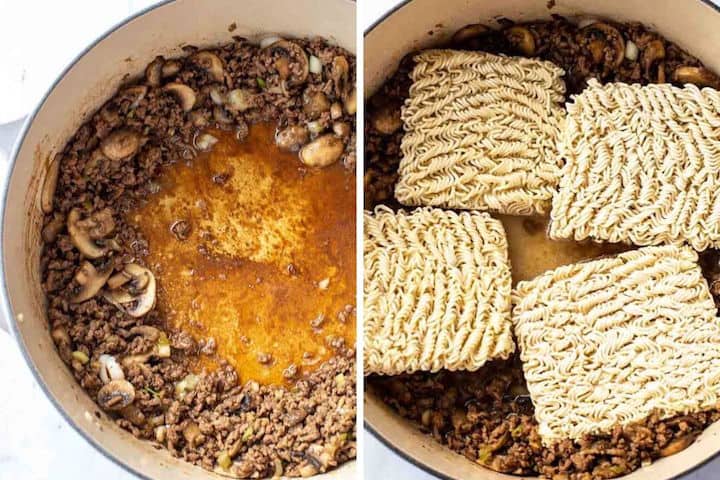 Step 5: Add cabbage and green onions. Stir to combine. Top with toasted sesame seeds and some sliced green onions for garnish!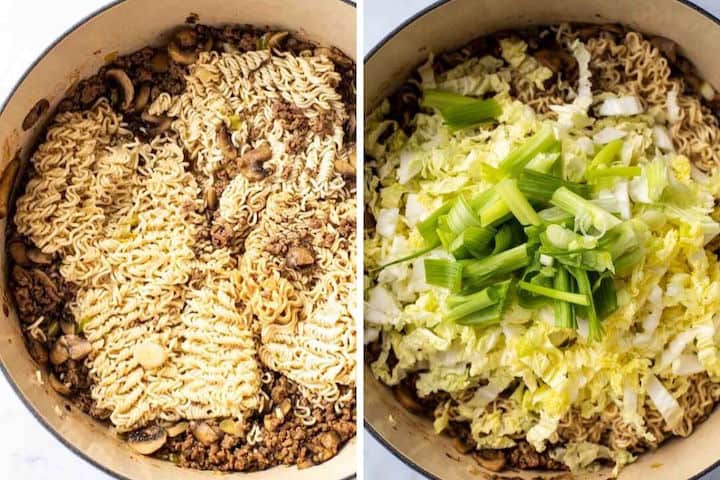 Recipe Tips
You can reduce ramen noodles by using 2 or 3 packages instead of 4. We like a lot of noodles at my house so I always add 4 ramen packages.
This ground beef ramen is more like stir fry than soup. The liquid will be absorbed by the noodles as they cook.
Use ground turkey or chicken instead of ground beef.
Use low sodium beef or chicken broth in place of water.
Use oyster sauce instead of hoisin sauce, or a half and half combination.
Add a teaspoon of red chili flakes or chili garlic to the Quick Stir Fry Sauce.
Change up the vegetables - this dish would be great with steamed broccoli, cauliflower, or green and red peppers. Just be sure they don't get overcooked and soggy. Add it in steamed or roasted veggies right before serving.
Substitute a dark, store bought stir fry sauce in place of the homemade version used here.
Variations
Gluten free - packaged ramen noodles are made with wheat and are not gluten free. Try substituting with Shiratake or "miracle noodles" or rice noodles that are labeled "gluten free". Shiratake noodles will only need to be warmed up, but rice noodles will need to be cooked first.
Keto or low carb - Shiratake noodle will be your best bet for a low carb noodle. Or, try zoodles (zucchini noodles) or more cabbage in place of ramen.
Vegetarian - leave out the meat and add up to two cups bean sprouts and double the amount of mushrooms.
FAQs
Is there a taste difference between Top Ramen and Maruchan or is it the noodle itself that is different?
Maruchan and Top Ramen are very similar in taste. I used Maruchan ramen noodles in this recipe, but you can use any brand you like. Just be sure you're using the dried ramen packages, not the cup of noodles kind for this recipe. Also, use the 3 ounce packages. Sapporo Ichiban brand is delicious as well, but the packages are 3.5 ounces and have more noodles.
How to make beef ramen spicy?
Add crushed red pepper flakes and your favorite chili sauce, such as sriracha, to the sauce.
Can you add egg to ramen?
You can add an egg to your ramen! There are different ways to do this including adding a scrambled, hardboiled, soft boiled, fried or poached egg on top right before serving.
Can you crack and egg into ramen?
Typically, you can soft boil an egg in the hot ramen broth. Since this recipe is more like a stir fry using ramen noodles, you'll have to whisk the egg first in a separate bowl, then add to the noodles after the cabbage starts to wilt. Be sure to adjust any seasoning to taste.
What is mirin and what can I substitute for it?
Real Mirin is a sweet rice Japanese wine. It's used in many Japanese dishes like teriyaki. Real mirin may be hard to find so you can substitute with aji-mirin, which means "taste like mirin." Kikkoman makes one and it can be found at most grocery stores. You can also use a dry white wine or even some rice vinegar.
How to serve ground beef ramen
Ground beef ramen makes a great main dish all on its own. This is how we like to eat it.
For parties and get togethers, we like to serve it with a variety of Asian inspired dishes like my carrot and cucumber salad, sausage skewers, bang bang cauliflower.
Most popular recipes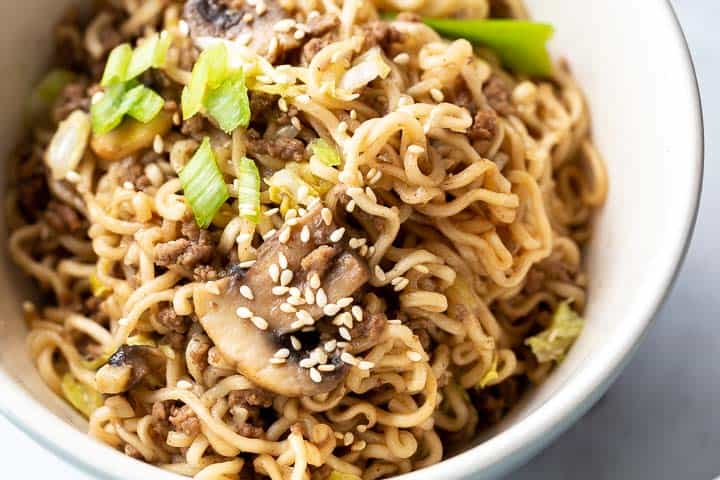 CLICK HERE to have recipes delivered via email!
This recipe was originally shared in September, 2019.
📖 Recipe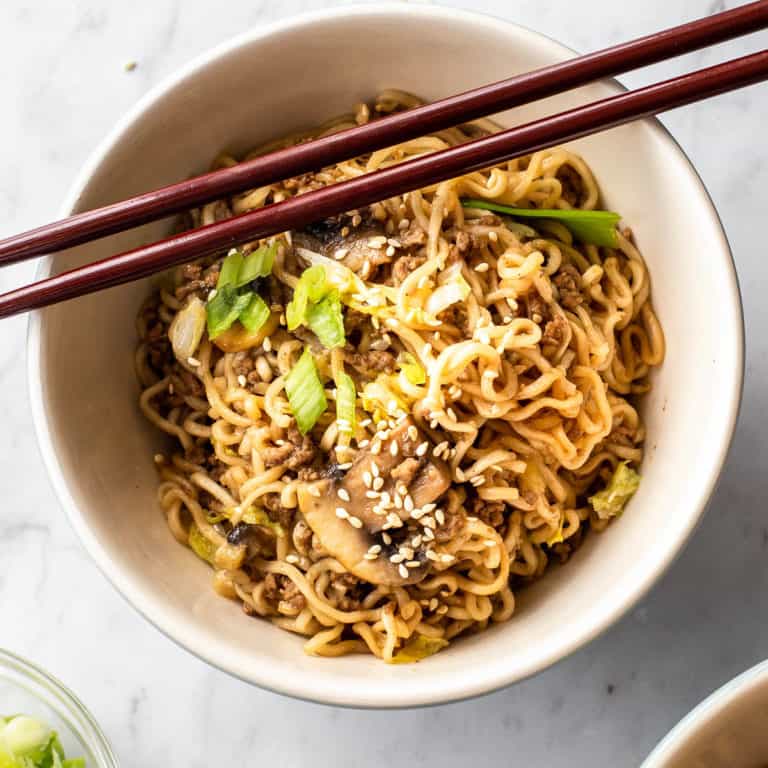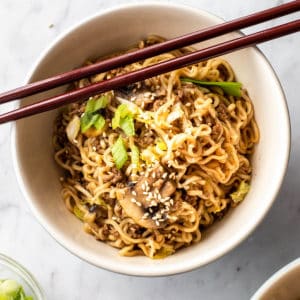 Ground Beef Ramen
Ground Beef Ramen is a quick and easy dinner recipe full of Asian flavor! Made with packaged ramen noodles, ground beef, mushrooms and cabbage. Great for busy weeknights whenever that take out craving hits, but you want a home cooked meal!
Ingredients
For the Ramen:
2

teaspoon

mild flavored oil such as canola or vegetable

1

tablespoon

sesame oil

1

pound

ground beef

85-90% lean

3

large cloves garlic

chopped finely

1-8

ounce

package white button or baby portabella mushrooms

sliced

2 ¼ - 2 ½

cups

water

adjust as needed

2

cups

napa cabbage

thinly sliced

4

packages ramen noodles

discard or reserve seasoning packets for another use

3

green onions - white parts sliced to ½ inch pieces; green parts sliced 2 inches long

Sesame seeds for garnish
Instructions
Make Quick Stir Fry Sauce by combining all ingredients in a small bowl with a whisk. Set aside.

Heat canola and sesame oil in a large pan or wok over medium heat.

Toast garlic in oil for 30 seconds, being sure it doesn't burn.

Add beef, breaking up large chunks. Cook until browned.

Add mushrooms and white parts of green onions and cook about 2-3 minutes more, or until mushrooms have released their moisture.

Add Quick Stir Fry sauce and cook for 2 or 3 minutes, stirring to combine.

Push beef to sides of pan, add water to center of pan.

Place ramen noodles in center of pan in water. You may need to break them up to make them fit.

Cook noodles for about 1 minutes, then flip them over. As they cook and soften up, start breaking them up and incorporating them into the beef and mushroom mixture.

Add cabbage and green parts of green onions, tossing to combine with noodle mixture.

Continue to toss until noodles are cooked and cabbage has wilted.

Serve immediately with sesame seeds.
Notes
Nutritional information is an estimate and will vary depending on ingredients used.
There are many different brands of ramen noodles. I have used Sapporo Itchiban brand and Maruchan brand interchangeably. Please note that Maruchan is about 3 ounces and Sapporo Itchiban is about 3.5 ounces. If you use a greater amount of noodles, you may want to add more liquid (water/broth/soy sauce/hoisin sauce) to the dish.
If you want to make a vegetarian version, omit the beef and just use the mushrooms and cabbage. Use vegetable broth instead of water to add a bit more flavor.
Please see post for additional tips and FAQ's
This dish was inspired by Recipe Tin Eats.
Nutrition
Serving:
4
g
Calories:
360
kcal
Carbohydrates:
14
g
Protein:
23
g
Fat:
23
g
Saturated Fat:
7
g
Cholesterol:
78
mg
Sodium:
959
mg
Potassium:
487
mg
Fiber:
1
g
Sugar:
8
g
Vitamin A:
121
IU
Vitamin C:
10
mg
Calcium:
61
mg
Iron:
3
mg
Tried this recipe?
Click here to leave a helpful tip!