This Easy One-Pan Roasted Broccoli recipe is the perfect side dish on its own, or add the florets to a salad or casserole to bump up nutrition and crunch!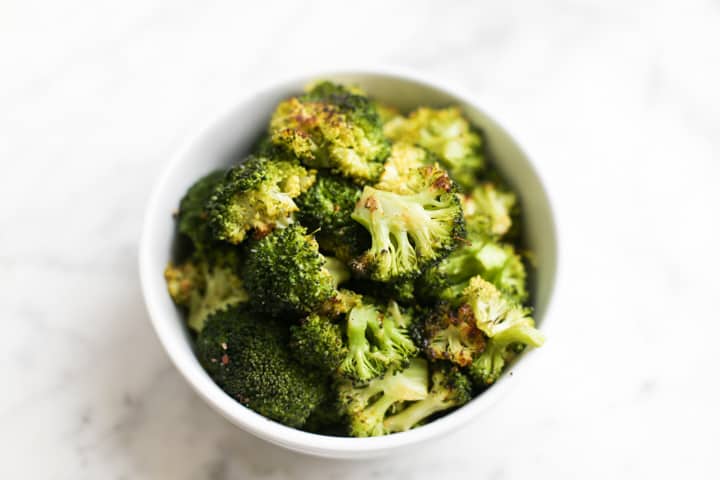 Face it. Broccoli is magically nutritious. You know you should be eating it on the reg. And if you're lucky enough to enjoy the slightly bitter taste, you are probably looking for ways to add this health bomb to your plate. Here are just a few of the nutrients you'll get from eating broccoli:
vitamin C – makes your skin glow 

vitamin A – fights free radical damage and maintains healthy vision

folate – an essential B vitamin crucial during pregnancy

potassium – a mineral that keeps the heart, kidneys, and other organs working normally

fiber – can help lower cholesterol and help maintain a healthy weight
I'm feeling healthier already, aren't you?
There are many ways to cook broccoli–boiled (please don't) steamed, sauteed, or stir-fried. My favorite way is roasted. It's so simple and the flavor pay-off is huge. 
Let's start with two heads of broccoli.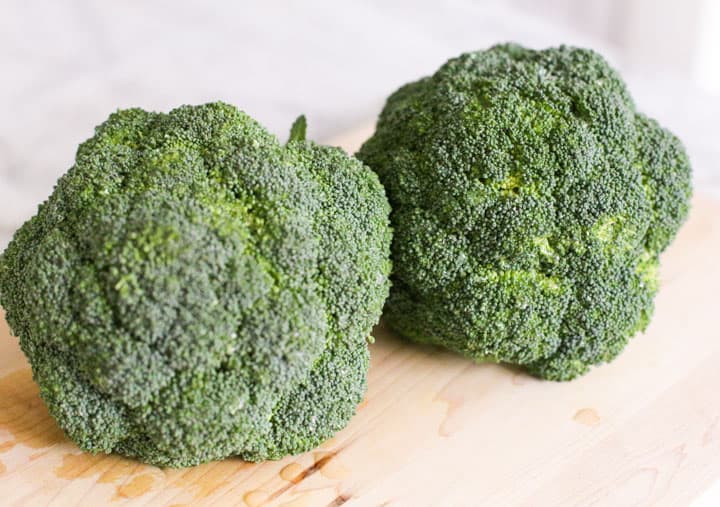 Wash them off and pat them dry. Then cut all the florets off the stalk.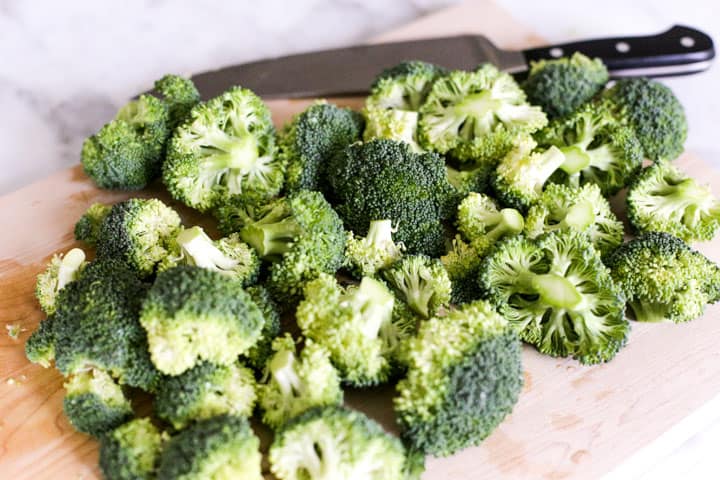 Now let's coat the florets with some extra virgin olive oil. You could toss it in large bowl, but I prefer to just do it on the sheet pan. One less thing to wash, right! Sprinkle on some salt and pepper.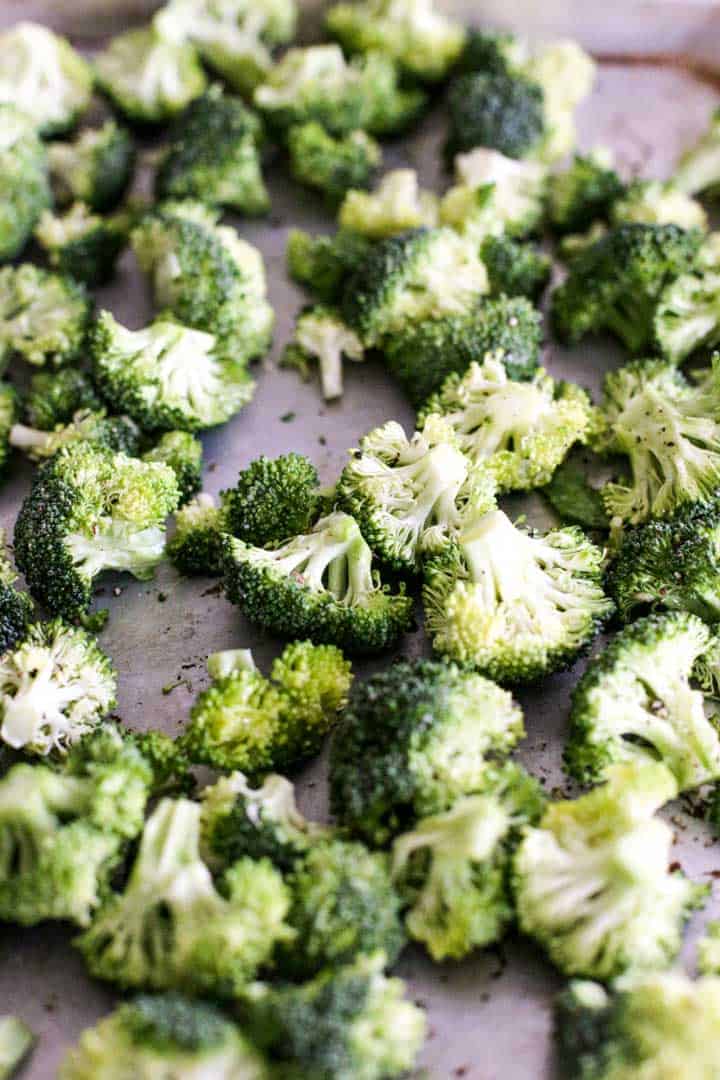 Bake in a pre-heated 400 degree oven for about 20 minutes. I like to take the pan out about halfway through to check for doneness and toss the broccoli around for even browning.
And that's it!
Now go forth and be healthy!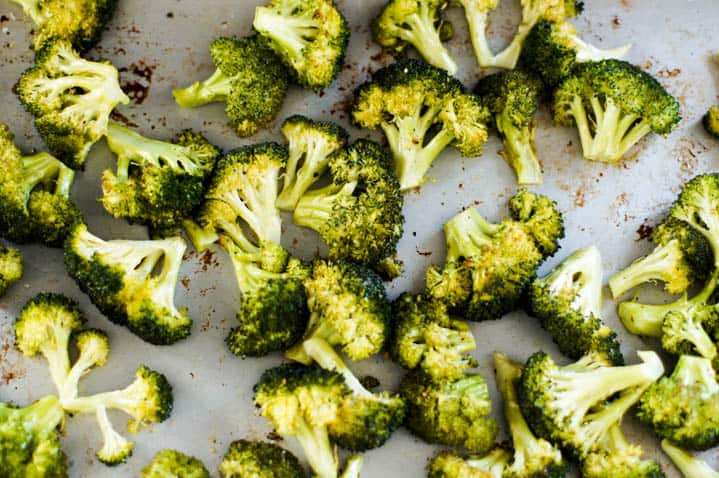 Be sure to check out the notes in the recipe card below for ways to change up the flavor profile.
*Nutrition information in this post was found on WebMD.
Print
easy one pan roasted broccoli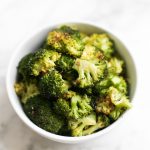 This Easy Roasted Broccoli recipe is the perfect side dish on its own, or add the florets to a salad or casserole to bump up nutrition and crunch!
Author:
Prep Time:

10 minutes

Cook Time:

20 minutes

Total Time:

30 minuts

Yield:

about 6 cups

Category:

Sides

Method:

Easy

Cuisine:

Continental
Ingredients
two large heads of broccoli, about 8 cups
4 tablespoons extra-virgin olive oil
2 teaspoons kosher salt, or to taste
1 teaspoon coarse black pepper
Instructions
pre-heat oven to 400 degrees
wash broccoli under cold water and pat dry with a paper towel
cut the florets off the stalk. cut larger pieces so florets are about the same size
spread broccoli on a shallow, 11 x 17  baking pan
drizzle extra virgin olive oil over the broccoli, tossing to coat
sprinkle with salt and pepper
bake for 10 minutes; remove pan and toss broccoli so it cooks evenly
bake another 10 minutes, or until desired doneness
adjust seasoning if needed
Notes:
This recipe is delicious as is, but it's only a staring point. Try these ideas to take Easy Roasted Broccoli to the next level.
Add lemon zest and fresh lemon juice to the broccoli after it's been cooked.
Toss with shredded parmesan or feta.
Drizzle with sesame oil and toss with lightly toasted sesame seeds.
Keywords: broccoli, vegetarian, healthy
Recipe Card powered by
If you made this Easy Roasted Broccoli, or any other recipe on the blog, don't forget to leave a rating and a comment below. I love hearing from my readers! You can also find me on my favorite apps – Facebook, Instagram and Pinterest!
pin now make later