If you're looking for the perfect basmati rice, look no further than this Indian basmati rice made in the an electric pressure cooker or instant pot. No more sticky, gluey, or clumpy bits, just fluffy grains that will make the best fried rice. You only need 2 ingredients and 30 minutes. Includes instructions for the stove top too!
If you love rice like I do, check out this instant pot coconut jasmine rice for a creamy side dish.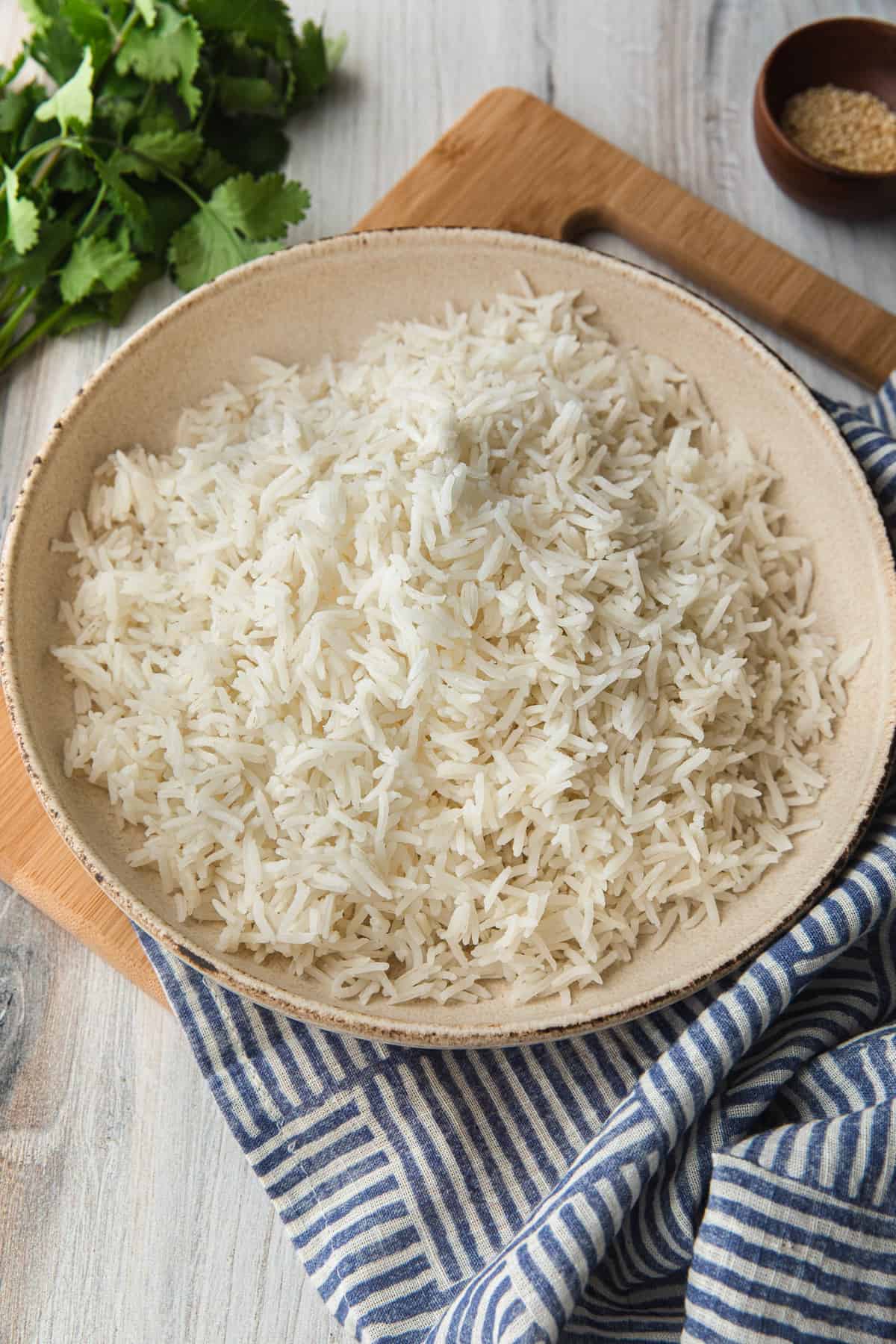 Why it's awesome
If you're into planning ahead, you can certainly meal prep instant pot basmati rice. Once cooked and cooled you can portion it out into your containers along with a good source of protein like chicken or fish, or a vegetarian option like this roasted broccoli.
This recipe is great as a side dish with dishes like coconut milk curry or these crockpot cranberry meatballs.
This recipe will create perfect rice to use in your favorite fried rice. The key is the water ratio. Too much water will yield a rice that's too mushy or soft for fried rice.
Key ingredients
Indian Basmati rice - basmati is native to India and Pakistan, but is mostly grown in India. You can buy white and brown basmati rice. It known for its long, slender grain, nutty taste, and fragrant smell. While many types of rice are high on the glycemic index, basmati rice is a tad lower making it a better option for diabetics. It is naturally gluten free.
Water - water will give this side dish a neutral taste making it a great side dish.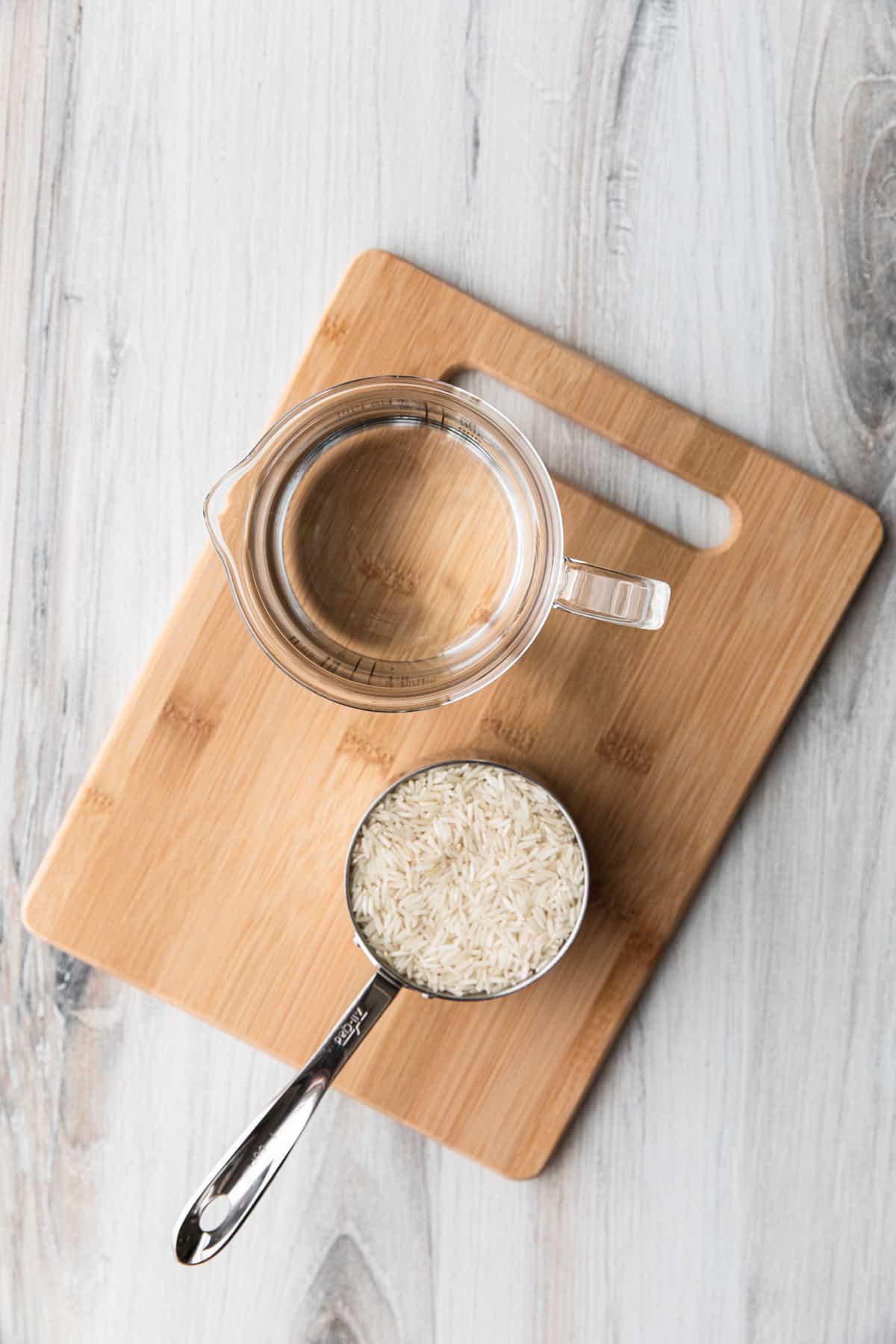 Directions for instant pot
Making basmati rice in the electric pressure cooker couldn't be easier! Just add one cup water and one cup rice to the pot. Pressure cook on high pressure for 6 minutes. Use a 10 minutes natural release. Fluff with a fork or silicone spatula.
Directions for stove top
You will need 1 cup basmati rice and 1 ½ cups water.
Add rice and water to a sauce pan. Bring it to a boil with the lid off. When it's bubbling all over, cover the pan and reduce heat to medium low for 12 minutes. No peaking!
Turn off the heat and let the rice rest for 10 minutes. Uncover and fluff.
Recipe Notes
Be sure you are familiar with our brand of electric pressure cooker. I tested this recipe in an Instant Pot Ultra 60 (6 quart).
I used this rice recipe to make my Singapore Fried Rice, a delicious, easy take out style side dish.
This recipe yields a firm, fluffy rice with separate grains. If you prefer a softer rice, increase the amount of water. You may need to experiment to find the amount that's perfect for you.
Rinsing and soaking isn't necessary. If you choose to rinse, you will be increasing the amount of water. The rice will be a bit softer- maybe even mushy.
If making on the stove, DO NOT open the lid once the rice is simmering. Be sure to let it rest too.
Use a 2.5 to 3 quart sauce pan with a lid. Anything bigger or smaller may not produce perfectly cooked rice.
Storage and reaheating
Keep cooked basmati covered well or in an air tight container in the refrigerator.
Freeze for up to 3 months for longer storage. Be sure to use a freezer safe container.
The rice will lose some moisture in storage, so it's a good idea to add a splash of water when reheating. The microwave is an easy way to heat up leftover rice because it seals in the moisture.
FAQ
How long does rice take in the instant pot?
Cooking times may vary, but usually it takes 4-8 minutes of high pressure to cook rice in the instant pot.
What is so special about basmati rice?
When basmati rice cooks, the grains only expand lengthwise, giving it its characteristic slender shape. It's also known for it's nutty taste.
Is basmati rice good for fried rice?
Absolutely. The fluffy and slender grains along with the nutty flavor make it an ideal choice.
More recipes you might like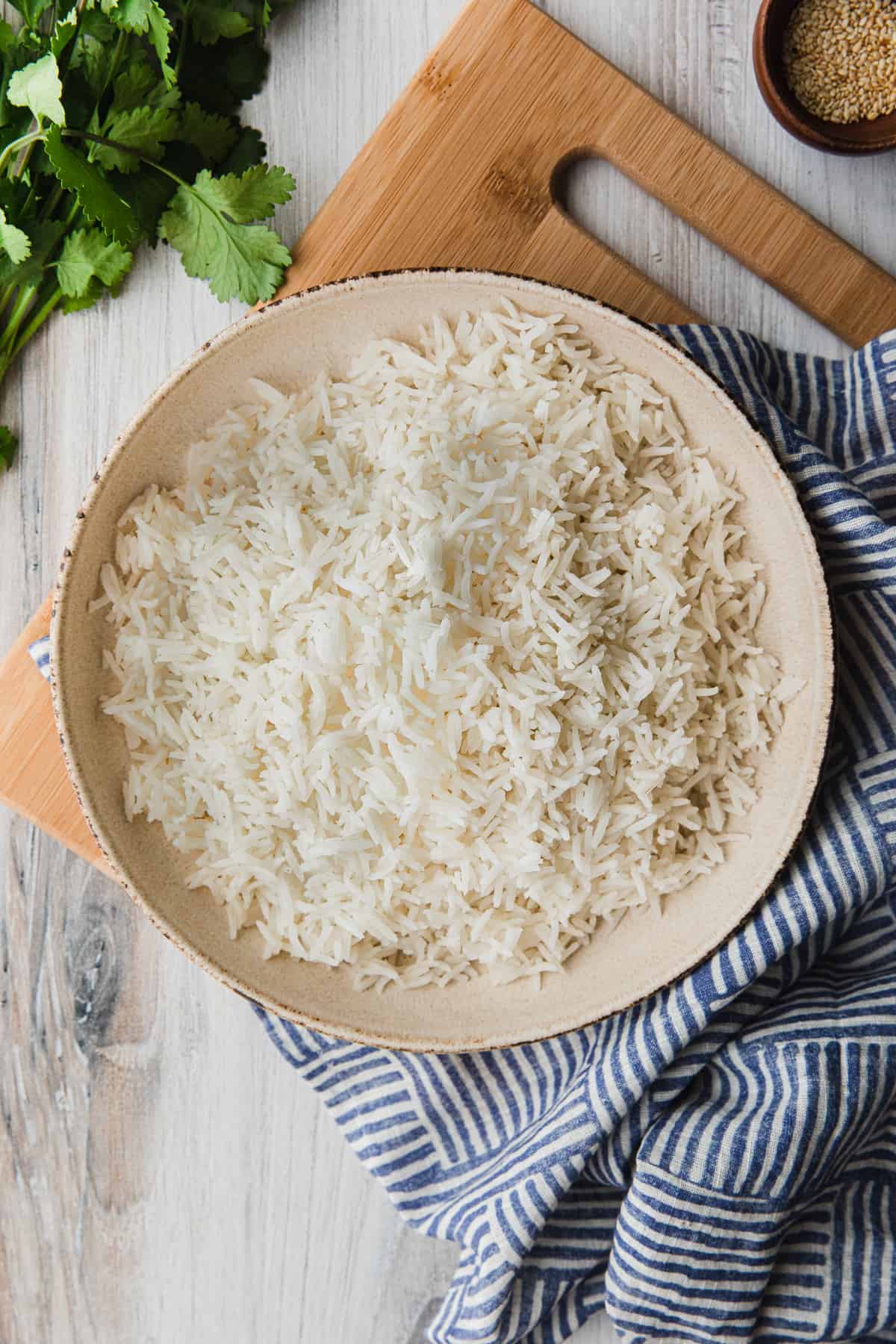 📖 Recipe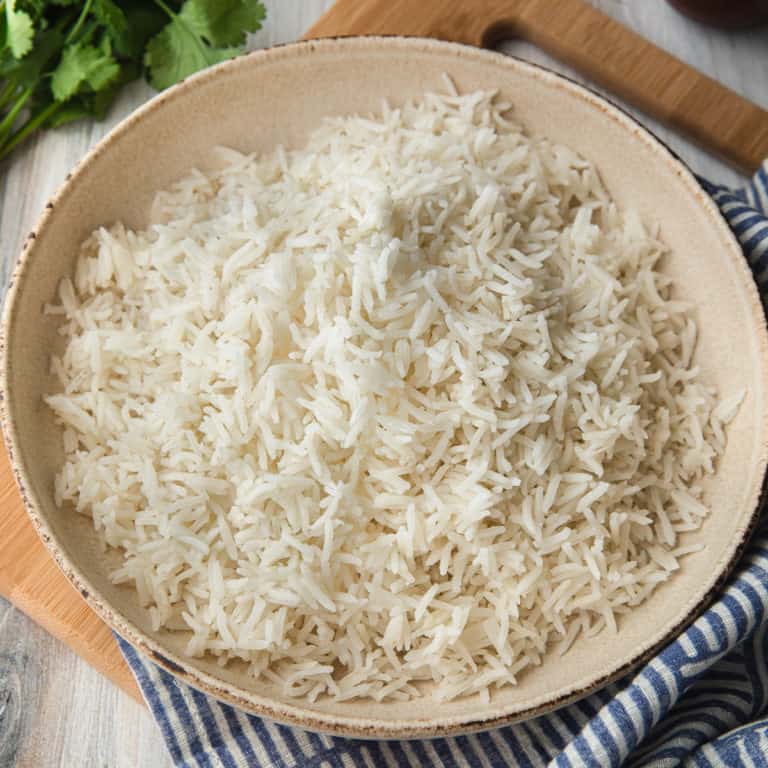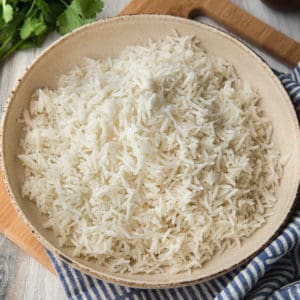 Instant Pot Basmati Rice
The perfect basmati rice can be cooked in the instant pot or the stove. Just 2 ingredients and 30 minutes is all you need!
Instructions
Instant Pot
Add rice and water to the instant pot or electric pressure cooker.

Close and lock lid. Cook using the high pressure setting for 6 minutes. Turn keep warm setting off or press cancel at the end of the cooking cycle.

Use a natural release for 10 minutes at the end of the cooking cycle. Press the steam release valve to release any remaining pressure. When the pin drops, open the lid and fluff with a fork or silicone spatula.
Stove Top
Add rice and water to a 3 quart pan and bring to a boil over high heat (uncovered).

Once rapidly boiling and bubbly all over, turn heat to medium low. Cover pot and cook for 12 minutes. Do not open lid!

At the 12 minutes mark, do not open lid. Let rice rest for 10 minutes off heat.

Fluff rice with a fork or silicon spatula.
Nutrition
Calories:
169
kcal
Carbohydrates:
37
g
Protein:
3
g
Fat:
1
g
Saturated Fat:
1
g
Sodium:
10
mg
Potassium:
53
mg
Fiber:
1
g
Sugar:
1
g
Calcium:
17
mg
Iron:
1
mg
Tried this recipe?
Click here to leave a helpful tip!